History of the Civic Crest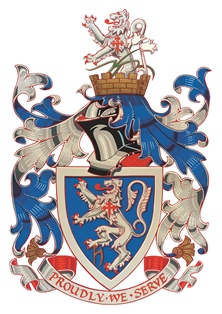 The origins of Horsham District Council's crest go back to the earliest days of Horsham. The ancient manor of Horsham was given by William the Conqueror to William de Braose. The manor remained in his family until his descendant, William de Braose, died in 1326.
In 1298 William's daughter married John de Mowbray so, on William's death, the Manor of Horsham passed to John. His descendant, Thomas de Mowbray, was created Duke of Norfolk in 1398 and since that date the Dukes have been the local Lord.
The lion rampant (standing up) with its hind foot on the letter H was the town crest and taken from the de Braose and Mowbray crests. Early in the 19th century the horse's head and dragon's tail were added unofficially (as can be seen on the front of Horsham's old town hall).
In 1944 a new coat of arms was officially granted to the Horsham Urban District Council – with the lion rampant taking centre stage.
In 1974, with the creation of Horsham District Council, the Horsham Urban District Council crest was used as the basis for the new District's crest and is still in use today.